Improve Your Game With Custom Fit Golf Clubs
Located at 2222 Snyder's Road East, Petersburg (Just outside of Kitchener), Precision Golf Clubs is the only Association of Club Fitting Professionals Certified Level 10 fitter in Southern Ontario and is committed to helping you achieve real game improvement by fine tuning your golf clubs for optimum performance.
Sign up for our monthly newsletter, you will find facts and tips on getting the most from your golf clubs. Just click on the News/Blog page and sign up !
Chosen as 2017 North American Clubmaker of the Year !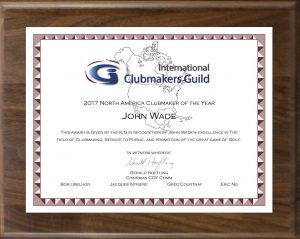 It is honour to be named International Clubmakers Guild 2017 North America Clubmaker of the Year !
Please check our contact page for our location and hours.
Precision Golf Clubs is proud to announce that we have been selected as an authorized Srixon and Cleveland fitter and dealer. We will be offering to fit and build the entire Srixon line of clubs, as well as all of the Cleveland wedges. Stay tuned for more info !

Precision Golf Clubs now has Single Length Irons. Mark Crossfield has a review of the Wishon Sterling Single Length Irons at GolfWRXSingle Length
For more info http://precisionclubs.com/single-length-irons/

Precision Golf Clubs is proud to announce that John Wade is been certified  by Titleist Performance Institute.